Everyone's favorite sports game has started to release ratings for its biggest stars.
Madden NFL 15 has bestowed high ratings to several NFL stars (and deservingly so). The players who earned top marks are notorious for making big plays. They are fixtures on the highlight reels, and they'll be a part of multiple highlights during gameplay.
These guys can take over games in the NFL. They can now do the same in the virtual NFL.
Take a look at how EA Sports rated some of the NFL's brightest stars.
?
Calvin Johnson, 99

Carlos Osorio/Associated Press

Donny Moore is a big fan of Calvin Johnson. The ratings guru had this to say about Megatron, via EA Sports' official website: "Just how good is Calvin Johnson? Best Hands in NFL: check (98 Catch/99 Spectacular Catch ? both ranked first in NFL). Physical monster: check (95 Speed/98 Jump/99 Release). He is even a top-ten Run Blocker among wideouts."
There's no doubting the fact that Johnson is far and away the best wide receiver in the NFL. His propensity to make catches in traffic and then scamper into the end zone makes him the ultimate weapon. He and Matthew Stafford have developed a strong on-field relationship with the Detroit Lions, and that means Johnson will continue to post numbers.
He missed two games last season but still hauled in 84 passes for 1,492 yards and 12 scores. With 16 games under his belt, he may have approached 100 grabs and 1,700 yards.
Madden players should look to use Johnson down the field in traffic. His 98 jump gives him the edge against most cornerbacks, and his 95 speed and 99 release will give him the advantage off the line.
His physicality is great. It's something that players must take advantage of when utilizing him. Sure, he's still useful in the middle of the field (or really in any role you could potentially need him in), but he's at his best when he's torching secondaries.
?
LeSean McCoy, 97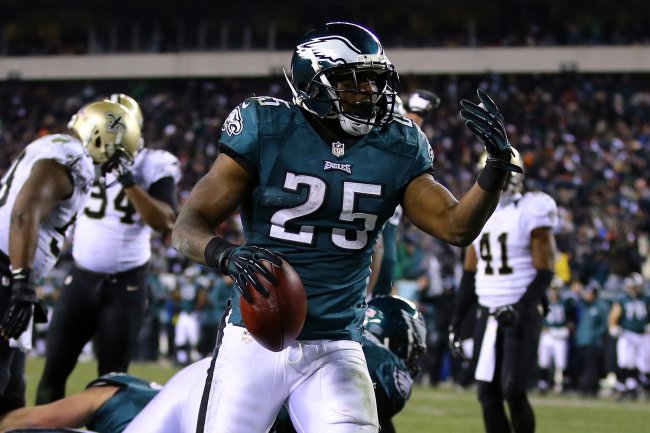 Al Bello/Getty Images

LeSean McCoy posted yet another stellar season in 2013. He rushed for 1,607 yards on 314 attempts, finding paydirt nine times. He also caught 52 balls for 539 yards and two touchdowns.
This led to a rating of 97 in the upcoming Madden release. Here's what Moore had to say about the mark, via EA Sports: "McCoy's 99 Elusiveness (tied with Jamaal Charles, ranked first in NFL), 99 AGI (first), and 98 ACC (first) make Shady a very dangerous man in?Madden NFL 15."
Elusiveness, agility and acceleration are certainly McCoy's best weapons. It's nearly impossible to bring the running back down in the backfield, as his ability to stop on a dime and pick up speed in a hurry in the opposite direction makes him one of the most valuable offensive weapons in the game.
McCoy is good enough to rack up yards no matter what play users select, but those who want to maximize his production should use him in power routes out to either sideline. This enables him to get past the first line of defense and then into the open field.
Probably the most difficult player to tackle in the open field, McCoy can then avoid a hit when owners use one of the bevy of moves at their arsenal.
?
J.J. Watt, 99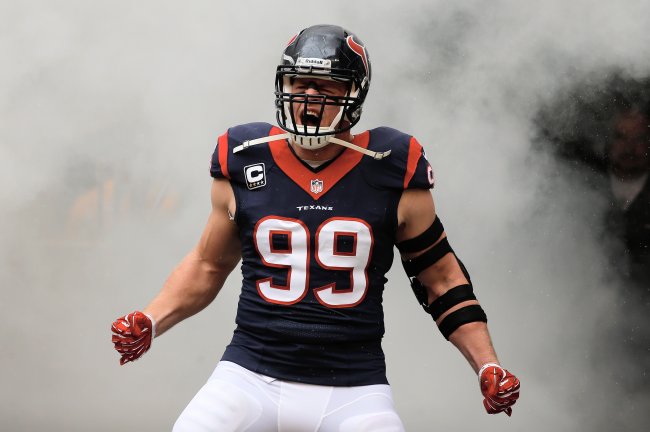 Scott Halleran/Getty Images

Undoubtedly the top defensive end in the NFL, J.J. Watt is very much deserving of a 99 rating.
Moore claimed that he would be ranked higher if possible:?"I think JJ Watt knew exactly what he was doing when he chose #99, as it was a prediction of his own?Madden?ratings. 99 Power Moves. 99 Overall. 98 Block Shedding. 97 Tackle. If we didn?t have a cap on it, Watt might be rated somewhere north of 105 OVR."
While the other ends are close in terms of ratings, Watt really is head and shoulders above the rest:
Madden NFL 15 Top DEs: J.J. Watt (99), Robert Quinn (97), Cameron Wake (96), Calais Campbell (96), Cameron Jordan/Muhammad Wilkerson (93)

? Bryan Wiedey (@pastapadre) July 26, 2014
He recorded 10.5 sacks a year ago. Opposing quarterbacks are aware of where he is on the line at all times, making him perhaps the most feared player in the league.
Users of Watt can use a variety of moves to get past offensive linemen and into the backfield. Once there, it will be hard denying J.J. Swatt.
?
Follow Kenny DeJohn on Twitter: @KennyDeJohn_BR
Breaking Down Madden Ratings of Top Stars – Bleacher Report