Pete Prisco's Top 100: Patrick Peterson the best at corner, but it's close
There are 704 starters in the NFL excluding kickers, punters and return specialists. On any given Sunday, any of the starters could be a top 100 player for that week. It is difficult to select a top 100 for the season and it is even more difficult to address all the positions. It is easy to overlook guards, centers, right tackles and fullbacks, but try and win games without them. This year I hope I identified a solid picture of the top 100 players, and the list is led by Tom Brady.
Some people would have you believe Brady isn't even a top quarterback anymore, but I watched him lose his top five receivers from 2012 (Wes Welker, Brandon Lloyd, Rob Gronkowski, Aaron Hernandez, Danny Woodhead) who caught a combined 338 passes and scored 32 touchdowns — as well as not having Deion Branch, Daniel Fells, Donte Stallworth and Kellen Winslow, who had a combined 44 receptions and a TD — and still throw for 4,343 yards, 25 touchdowns and get to the AFC Championship game. Now ask yourself the question: What other quarterback could be stripped of that many receivers and still win 12 games in the regular season?
I don't consider a single slot in the top 100 much different from the spot above or below it, but I did sort the players out in groups of 20, then considered health, off-the-field behavior, age and production. I will say that the 20 players that wound up ranked No. 101-120 were just as good as the group from 81-100.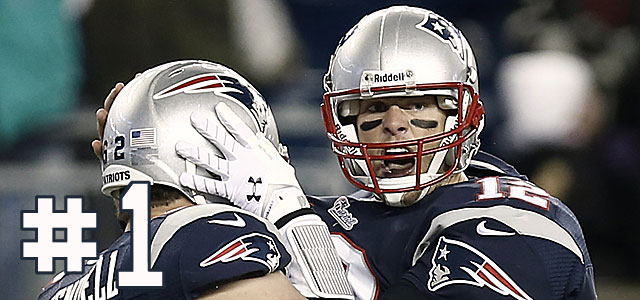 1. Tom Brady, QB, Patriots: He does more with less. He could take any team in the AFC and win the division.
2. Peyton Manning, QB, Broncos: The field general lives the game and he makes average players into pro bowlers.
3. Drew Brees, QB, Saints: What would the Saints be without him?
4. Adrian Peterson, RB, Vikings: He may go down as one of the top five backs of all time.
5. Aaron Rodgers, QB, Packers: He may have the best arm in football and he has escape skills.
6. Luke Kuechly, LB, Panthers: The leader of a top defense and a 100-plus tackling machine.
7. Patrick Peterson, CB, Cardinals: The most talented defensive back in the NFL.
8. Jimmy Graham, TE, Saints: Call him a tight end or a wide receiver. He's just a beast.
9. J.J. Watt, DE, Texans: Watt is a dominating force in any front.
10. Calvin Johnson, WR, Lions: Johnson requires double coverage every play and he still catches 100 balls.
11. LeSean McCoy, RB, Eagles: Mr. Elusive. He can do it all from the running back position.
12. Earl Thomas, S, Seahawks: The leader of the best secondary in football with incredible range.
13. Richard Sherman, CB, Seahawks: A big-play corner who backs up what he says in big games.
14. Joe Thomas, OT, Browns: Thomas never gets any help from tight ends or backs and shuts down rushers.
15. Jamaal Charles, RB, Chiefs: He replaced Chris Johnson with his style and versatility.
16. A.J. Green, WR, Bengals: A superstar receiver that might catch 150 balls per season if he was with Brady or Brees.
17. Aldon Smith, LB, 49ers: Too bad he seems to always be in trouble, because he's the best pass rusher in the game.
18. Ben Roethlisberger, QB, Steelers: Big Ben will have his Steelers ready to bounce back this year.
19. Josh Gordon, WR, Browns: He may not play this year, but he is capable of being the best WR in the game.
20. Robert Quinn, DE, Rams: Quinn will give Aldon Smith a run for his money in sack totals over the next five years.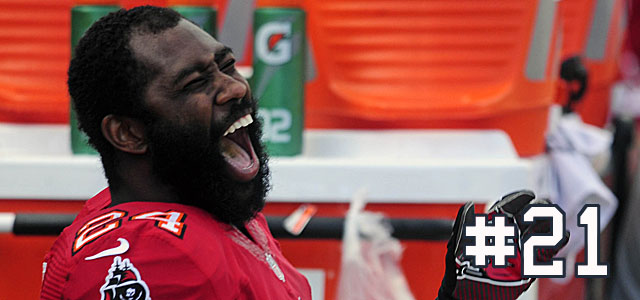 21. Darrelle Revis, CB, Patriots: He has top man-to-man skills and will flourish in New England.
22. Brandon Marshall, WR, Bears: It feels like he could catch 100 passes a year in his sleep.
23. Greg Hardy, DE, Panthers: He not only rushes the passer but has the power to dominate the run game.
24. Larry Fitzgerald, WR, Cardinals: He may be slowing down a little, but he runs great routes and has super hands.
25. Julio Jones, WR, Falcons: Jones was averaging 8 receptions per game before he got hurt last year.
26. Ndamukong Suh, DT, Lions: A dominating inside force that enables the Lions to just rush four.
27. Marshawn Lynch, RB, Seahawks: Beast Mode is a scary thing to watch, and even worse to try to stop.
28. Joe Haden, CB, Browns: He just got paid like a star and he holds a young secondary together.
29. Robert Mathis, LB, Colts: Even with a four-game suspension, he will have double-digit sacks this year.
30. Demaryius Thomas, WR, Broncos: He will have gigantic numbers again with Peyton Manning.
31. Matt Forte, RB, Bears: What can't he do from the RB position? Always a top percent-of-plays guy.
32. Muhammad Wilkerson, DE, Jets: An emerging power player that has been neglected for too long.
33. Eric Berry, S, Chiefs: A smooth-operating centerfielder with man skills in coverage.
34. Philip Rivers, QB, Chargers: Some thought he was done after 2012, but he is back in a big way.
35. NaVorro Bowman, LB, 49ers: I hope he's healthy enough to play because he dominates the inside.
36. Von Miller, LB, Broncos: He has the talent to be the best and it shows, but I need to see more.
37. Jairus Byrd, S, Saints: The Saints knew what they were getting when they paid him the big bucks.
38. Geno Atkins, DT, Bengals: Great "3 techniques" are hard to find and even harder to develop.
39. Haloti Ngata, DT, Ravens: He's getting older and staying healthy is getting tougher for him, but he is a force on the line.
40. Dez Bryant, WR, Cowboys: Dez could be higher and probably will jump into the top 20 by year's end.
41. Andre Johnson, WR, Texans: If he ever plays with Tom Brady, his numbers would be a record.
42. Gerald McCoy, DT, Buccaneers: Some would argue he's the best interior lineman. Lovie Smith will push him.
43. Patrick Willis, LB, 49ers: Mr. Reliable is a 100 tackle a year guy. He is starting to remind me of London Fletcher.
44. Ryan Clady, OT, Broncos: He doesn't give up many sacks, and every defender knows where Manning is.
45. Joe Flacco, QB, Ravens: Some would say he had an off year, but he lost his weapons and bounced back.
46. Vernon Davis, TE, 49ers: Davis is a threat from the tight end or flexed spot and great after the catch.
47. Matt Ryan, QB, Falcons: It is amazing he survived last year with that protection and the loss of Julio Jones.
48. Roddy White, WR, Falcons: He may have lost a step, but with Jones back, his yards per catch will go up.
49. Andrew Luck, QB, Colts: Luck will someday be No. 1 on my list, but for now, top 50 is pretty good.
50. Russell Wilson, QB, Seahawks: He is the leader of the reigning Super Bowl champions and may win multiple titles.
51. Jahri Evans, G, Saints: Still the best guard in the game. He can't be neglected on the top 100 list.
52. Ryan Kalil, C, Panthers: Some may not even have him in their top 100, but go watch the film.
53. Antonio Brown, WR, Steelers: A big play guy who gets asked to do more with Mike Wallace and Emmanuel Sanders gone.
54. Rob Gronkowski, TE, Patriots: Health is what keeps him out of the top 25.
55. Alfred Morris, RB, Redskins: He is humble and quiet and just keeps rushing for over 1,000 yards per season.
56. Julius Thomas, TE, Broncos: What a threat he has become under the guidance of Peyton Manning.
57. Jared Allen, DE, Bears: He's a perfect fit for the Bears. I expect double-digit sacks once again.
58. Logan Mankins, G, Patriots: Like Jahri Evans, it's hard to leave off a football player like Mankins.
59. Justin Houston, LB, Chiefs: Did you see what the Chiefs' defense looked like when Houston was injured?
60. Duane Brown, OT, Texans: A tremendous blocker who has to protect more quarterbacks than he can count.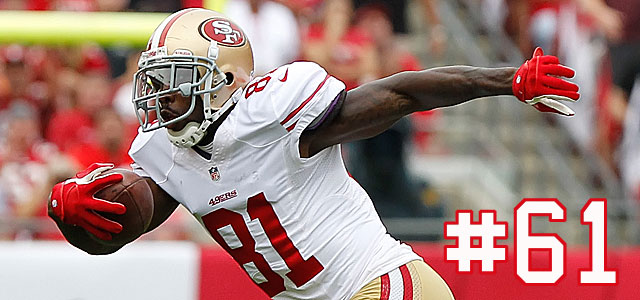 61. Anquan Boldin, WR, 49ers: The top third-down receiver in the league last year and the most targeted 49er.
62. Clay Matthews, LB, Packers: Matthews now has other pass rushers on the field with him, and his numbers still go up.
63. Percy Harvin, WR, Seahawks: If the Super Bowl was any indication of what Seattle will be doing, watch out.
64. Calais Campbell, DE, Cardinals: The Cardinals play good defense and the 6-foot-7 Campbell is a big reason.
65. Eli Manning, QB, Giants: Granted he threw a lot of interceptions in 2013, but he always bounces back.
66. Antonio Gates, TE, Chargers: A few years ago he played injured. Last year he was healthy and put up numbers.
67. Cam Newton, QB, Panthers: He is a big-time player and needs weapons, especially with Steve Smith gone.
68. Terrell Suggs, LB, Ravens: Suggs is the leader of the Ravens' defense and makes big plays in big moments.
69. Joe Staley, OT, 49ers: Staley is the line leader of one of the best lines in football, and a great athlete.
70. Tyron Smith, OT, Cowboys: Quietly becoming one of the best left tackles in the game.
71. Tony Romo, QB, Cowboys: He is not the problem in Dallas but he takes a lot of the blame.
72. Kam Chancellor, S, Seahawks: He provides Seattle so much flexibility on their defense.
73. Alex Mack, C, Browns: A top center in the league and the top 100 can't all be skill players.
74. Julius Peppers, DE, Packers: He may not be the player he once was, but every offense still schemes him.
75. Vontaze Burfict, LB, Bengals: The only reason he wasn't drafted was off-the-field issues. He plays like a No. 1 pick.
76. John Abraham, LB, Cardinals: Some said he was done two years ago. He is still a double-digit sack guy.
77. Jerod Mayo, LB, Patriots: Smart, intense leader of the Patriots' defense that manages Bill Belichick's schemes.
78. Justin Smith, DE, 49ers: A true football player and a throwback.
79. Matthew Stafford, QB, Lions: He has the talent to be much higher than this. He needs to win more games.
80. Cameron Wake, DE, Dolphins: It's still a mystery to me how this guy went undrafted and became a Canadian league player.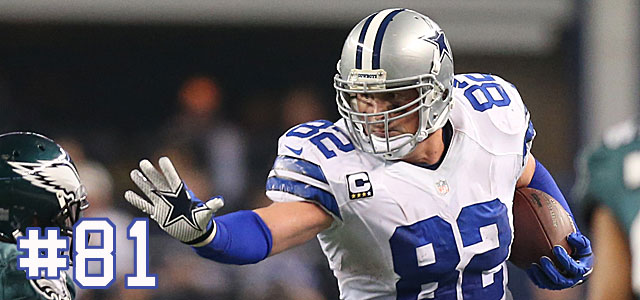 81. Jason Witten, TE, Cowboys: A lot of young tight ends are challenging him for the top spot at his position.
82. Vincent Jackson, WR, Buccaneers: With Michael Evans opposite him and Josh McCown throwing, I expect 90-plus catches.
83. DeSean Jackson, WR, Redskins: A big-play guy who was shown the door in Philly, but will rebound in Washington.
84. Wes Welker, WR, Broncos: There is no way the best slot receiver in the NFL can be left off the top 100.
85. Nick Foles, QB, Eagles: Only two interceptions last year and a division title. The sky is the limit.
86. Tamba Hali, LB, Chiefs: A very solid player against the run and the pass.
87. Reggie Wayne, WR, Colts: If he's 100 percent healthy and hasn't lost a step, he's too low on this list.
88. Mario Williams, DE, Bills: He never became the next Reggie White, but he's a top 100 player.
89. Colin Kaepernick, QB, 49ers: Some think he should be way up this list, but his accuracy needs to improve.
90. Jordan Cameron, TE, Browns: 80 receptions at tight end with Brian Hoyer and Brandon Weeden throwing the ball.
91. Derrick Johnson, LB, Chiefs: A very solid player with coverage and rush skills.
92. Vince Wilfork, DT, Patriots: He is coming off an injury and is older, but watch the Patriots' defense improve upon his return.
93. Cameron Jordan, DE, Saints: The best thing to happen to him was Rob Ryan. he'll make another jump in 2014.
94. Marshal Yanda, G, Ravens: Again, the top 100 isn't a club for skill position players.
95. Brent Grimes, CB, Dolphins: He has leaping skills to cover much bigger players and is the top Dolphin DB.
96. Frank Gore, RB, 49ers: San Francisco may be phasing him out, but he still produces and is the heart and soul of the team.
97. Trent Williams, OT, Redskins: He never gets any help and gets the job done.
98. Chris Long, DE, Rams: Run or pass situations Long is always around the ball and a very smart player.
99. DeMarcus Ware, DE, Broncos: Not the guy he once was, but the same was said about John Abraham.
100 (tie). Ahmad Brooks, LB, 49ers/Troy Polamalu, S, Steelers: I can't have a top 100 without these two players. Brooks is underrated and Polamalu will have a solid season in 2014.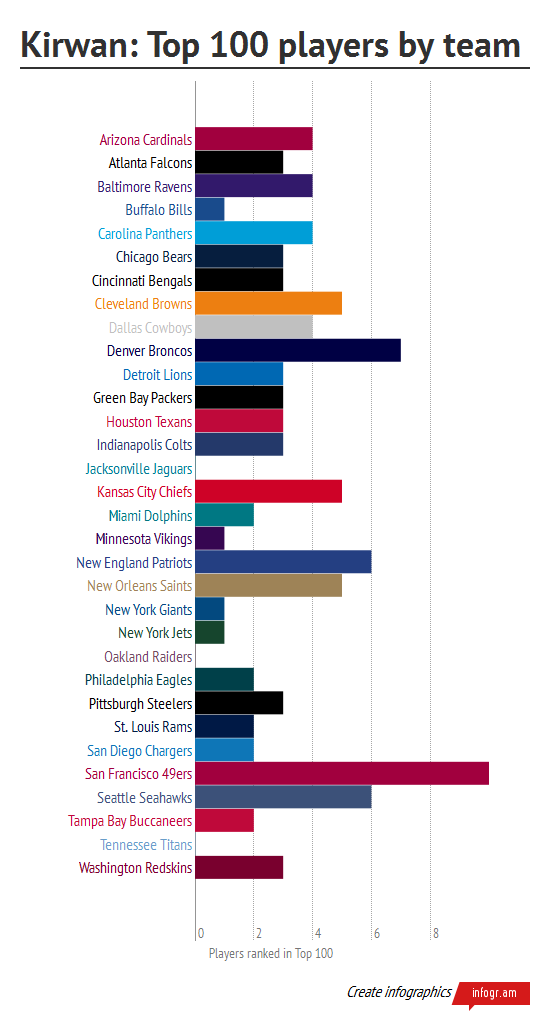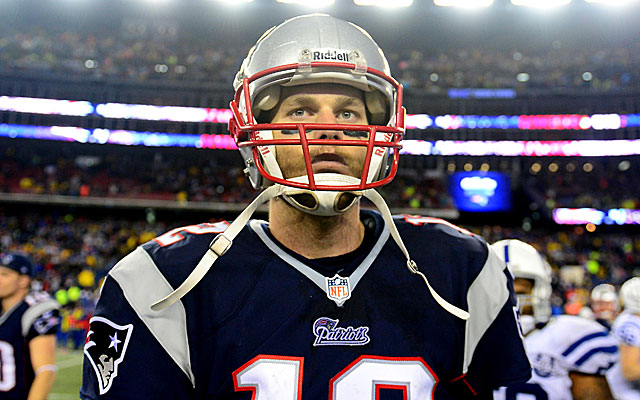 Top 100 NFL players: Top-ranked Tom Brady thrives despite obstacles – CBSSports.com