Heading into the 2014 FIBA Basketball World Cup in Spain, Team USA head coach Mike Krzyzewski?without LeBron James, Kevin Durant, Carmelo Anthony, Paul George or Chris Paul at his disposal?was seen as marshaling perhaps his weakest team in over a decade.
Eight games and a 32.5-point-average margin of victory later, the Americans enter Sunday?s gold-medal game against Serbia with a chance to close out one of the most dominant performances in the history of international basketball.
By comparison, the 1992 and 1996 Dream Teams registered an average deficit of 43.8 and 31.8 points, respectively.
How?s that for exceeding expectations?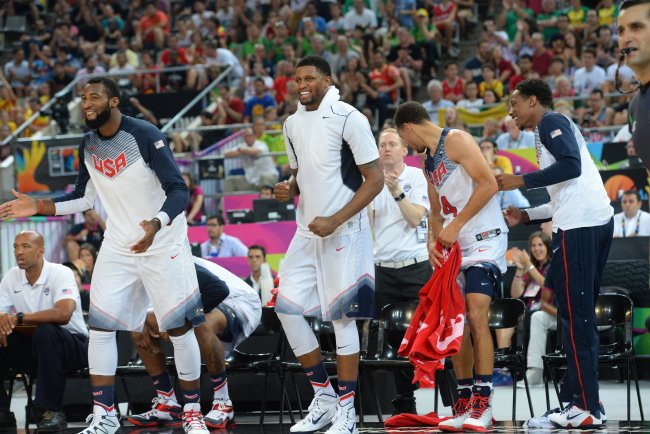 Jesse D. Garrabrant/Getty Images

For its part, Serbia?fresh off a nerve-wracking 90-85 win over France Friday night?has some golden designs of its own, ones that go well beyond shaving a few measly points off Team USA?s statistical supremacy.
Following a disappointing 2-3 record in the tournament's group stage, Serbia has since taken its play to another level, culminating in a 84-56 thrashing of Brazil in the quarterfinals.
As far as momentum goes, the Serbs have it in spades.
In Milos Teodosic, Serbia boasts the perfect foil for Team USA?s somewhat lackluster perimeter defense?a hardwood wizard capable of poking, prodding and passing his way out of almost any jam. His 49 percent tournament three-point clip doesn?t hurt, either.
Looking forward to SRB-USA quite a bit. Think they can absolutely give US a game. We missed that game in 2010 when they lost to TUR.

? Nate Duncan (@NateDuncanNBA) September 12, 2014
Serbia didn?t make it this far to sheepishly accept the silver. To pull off the impossible, however, will demand head coach Sasha Djordjevic and company keep cool, calm and collected in the face of what?s been by far Team USA?s biggest boon: turning defense into instant offense.
?
Organized Chaos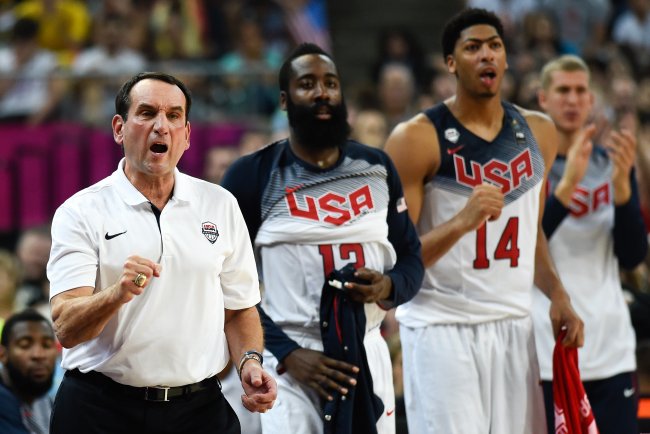 David Ramos/Getty Images

To date, Team USA has forced a tournament-best 188 turnovers or one every 1.7 minutes.
And while FIBA doesn?t tabulate subsequent points scored, this is one case where the eye test tells you everything you need to know: It?s a lot.
What Krzyzewski lacks in top-flight perimeter defenders (James Harden, Stephen Curry and Kyrie Irving are all subpar in this respect), he more than makes up for with uncannily disruptive length and athleticism in the frontcourt.
Anthony Davis, Kenneth Faried, Rudy Gay, Klay Thompson?these guys have wreaked wingspan havoc all over the floor, shooting gaps from the weak side and disrupting entry passes with pernicious aplomb.
The result: easy points aplenty at the other end, helping Team USA make up for what has been an intermittently anemic half-court offense.
To have any chance of keeping things close, Teodosic and his Serbian sidekicks have to protect the ball as if it?s the gold medal itself. That might sound like "Basketball Coaching 101," but against a team this uncannily anticipatory, it?s the hardwood equivalent of a high-level doctoral course.
?
Turning the U.S. Inside Out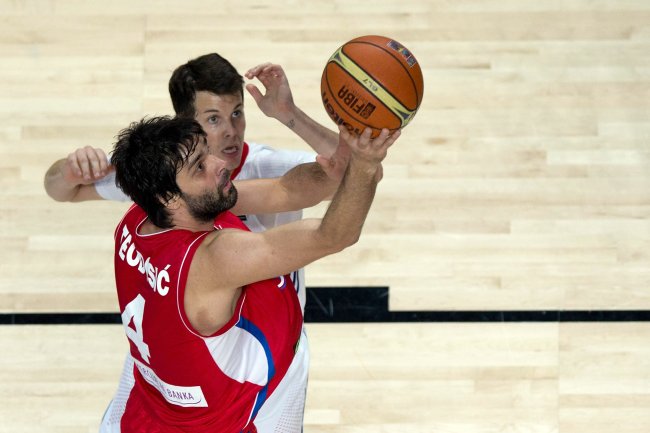 Gonzalo Arroyo Moreno/Getty Images

Team USA has faced its fair share of formidable guards (Goran Dragic, the legendary Eugene ?Pooh? Jeter). And they?ve handled some burdensome bigs (Jonas Valanciunas, Gustavo Ayon).
But not since their 2012 gold-medal win over Spain have Krzyzewski and company faced quite the one-two punch of Teodosic and Miroslav Raduljica, the burly 7-footer most recently employed (and recently let go) by the Los Angeles Clippers.
Come to the NBA, Teodosic

? Marc Stein (@ESPNSteinLine) September 12, 2014
Between the two, Serbia will have ample opportunity to put Davis and Faried into early foul trouble?if not disastrous, certainly an unwelcome development for Team USA.
For all his one-on-one defensive abilities, DeMarcus Cousins simply doesn?t boast the same range of defensive motion as his frontcourt counterparts. What?s more, Raduljica is just the kind of player?rough, tough and talkative?capable of getting under Cousins? notoriously thin skin.
Meanwhile, Teodosic?s savvy playmaking has meant three-pointers galore for Serbia, which enters Sunday?s gold-medal game ranked third in the tournament in overall percentage.
Add it all up and you have the makings for an offense custom-built to give Krzyzewski fits.
?
Recipe for [Upset] Success?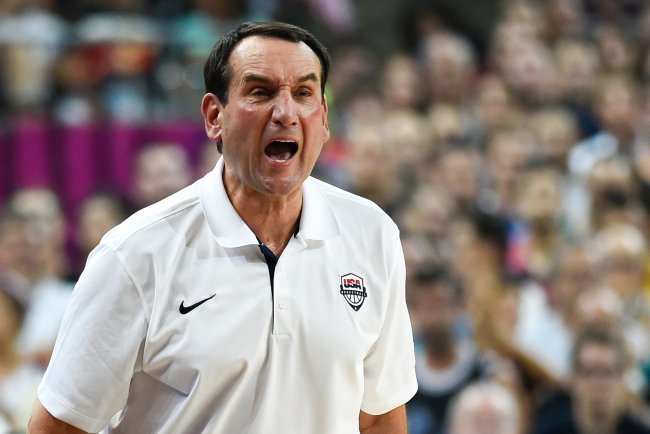 David Ramos/Getty Images

"I'm not surprised about anything in international competition," Krzyzewski told ESPN.com?s Marc Stein following Thursday?s dismantling of Lithuania. "If we feel we can lose, we know anybody else can lose."
If anyone knows the disappointment of unmet expectations, it?s Krzyzewski, who had to settle for bronze in his first Team USA go-round at the 2006 FIBA World Championship in Japan.
Eight years and three-straight gold medals later, it?s easy to believe the Americans have somehow recaptured for good their place atop the world?s hardwood hierarchy.
However, as The Cauldron?s Kevin McElroy recently wrote, there is a blueprint, however seemingly ethereal, to beat Team USA. What?s more, it was one of its group-stage opponents?the always feisty Turkey?that may have laid it out:
There are a lot of different ways to skin a cat there, but the common theme is confusion on the perimeter leading to open looks and a ton of fouls. Therein lies Part 1 of the offensive blueprint teams need to institute against the Americans: attack the guards off the dribble in the hope that the resulting chaos will open up the corner three and/or put Davis and the American shooters in foul trouble.

The second thing opponents should look to do against Team USA has only been executed semi-successfully once to this point in the tournament. In the Round of 16, Mexico was able to run its offense through Gustavo Ayon in the post. Ayon?s ability to play with his back to the basket and to face up when necessary affected the game in three ways?
In Teodosic, Serbia has the perfect piece to orchestrate McElroy?s first directive: namely, break down Team USA?s porous perimeter defense to create open looks for both his teammates and himself.
Another player to keep an eye on: Bogdan Bogdanovic, whose offensive versatility?he's a sniper and slasher in equal measure?was enticing enough to attract the attention of the Phoenix Suns, who nabbed the 6?5? guard with the No. 27 pick in June?s draft.
Raduljica, meanwhile, possesses a skill set similar to that of Ayon, making Serbia?s bearded big man an equally difficult cover and a linchpin of Djordjevic?s master strategy.
With just hours remaining before the two teams take the floor at the Palacio de los Deportes in Madrid, expect Serbia to spearhead the equivalent of an exam cram session of what makes Team USA tick?to further cleave the cracks and fissures exposed by previous foes.
Whether such studies can yield a passing grade, however, remains a dubious prospect.
?
U.S.A?OK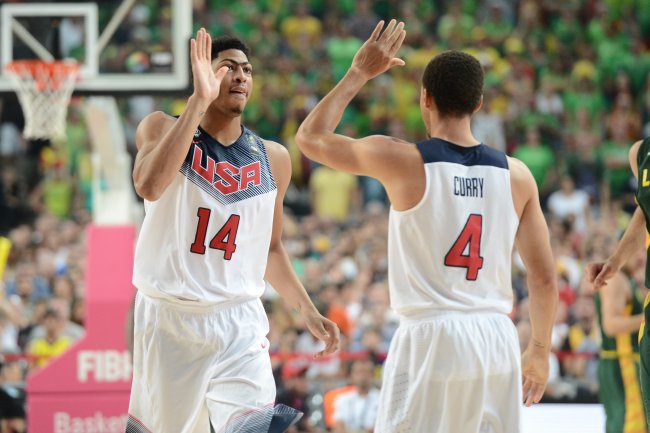 Garrett Ellwood/Getty Images

The last time the United States and Serbia met on the international stage was at the 2002 FIBA World Championship, where the Serbs?then playing under the Yugoslavian flag?registered a shocking 81-78 upset en route to a gold-medal showing in Indianapolis.
Team USA never recovered, finishing fifth in what would become the program?s most infamous showing to date.
Don?t expect a repeat performance this time around.
As it?s proven throughout the tournament, the U.S. is simply too big, too fast and too deep for any team?no matter the poise or pedigree?to author anything more than a noble effort.
Make no mistake: Serbia has the weapons and wherewithal to make Team USA earn its spot atop the ceremonial podium. Unfortunately, it all adds up to so many knives in a nuclear fight.
?
All stats and figures courtesy of FIBA.com.
USA Basketball vs. Serbia: 2014 FIBA World Cup Final Preview – Bleacher Report